Albuquerque Multifamily Price Trends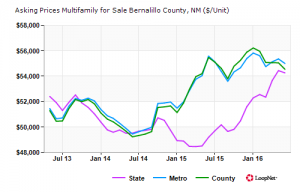 The prices for Albuquerque Multifamily properties have been trending up steadily over the last 2 years. Due to the limited number of Multifamily properties for sale we do not see a down trend coming in the future months and prices will hold steady.
Currently there are only about 160 properties in the Greater Albuquerque market for sale (which includes Rio Rancho, and all surrounding areas like Los Lunas, Belen etc.). There are about 140 Albuquerque Multifamily properties for sale at this time and range from just below $90,000 for a Duplex in the SE Heights up to $11 million for a 140 Unit property in the UNM area.
Some investors believe strongly that Multifamily and Apartment buildings are the best investment because they are easy to find, easy to analyze, everyone needs a place to live, banks love to lend on them, and they're great cash flow generators – especially now that interest rates are very low! Multifamily Properties up to a total of 4 Units/Apartments can be financed through a Residential Loan, basically just like you are buying a Single Family Residence! Rental Income generated by existing Leases/Tenants will be partially (up to 75%) credited towards your income which is another added benefit when looking for financing. Please make sure to talk to your Lender about down payment requirements!
We at R&R Real Estate Partners are dedicated to help achieve your financial and investment goals. Weather you are looking to invest into Single Family or Multifamily properties, we are here to help and guide you through the process.  We also offer full Property Management Services under LOE Property Management a full service Management Company.
Please remember: Cash flow is "King" and you need to make money each month!
For a complete list of all available Multifamily properties for sale please CLICK HERE